MeccAlte, S.p.A. is headquartered in Italy. They have over 1,200 employees worldwide with 8 plants in Italy, with additional plants in the UK, India, and China. They are one of the largest generator manufacturers in the world.
MeccAlte has a reputation for producing a high quality product, which is derived from good engineering, production planning, material selection, and pride in manufacturing.
They have products which are tested and approved by UL, CSA, ABS, CE, Lloyd's, and DNV in addition to being ISO 90001 certified. They build generators from 0.5 KW to 5,000 KW in 60, 50, & 400 Hertz.
Synchronous generators with ratings of 480 volts and below are in stock at their Chicago area warehouse, which has a large inventory of accessories, and spare parts. Induction, Irrigation, Welding, Light Tower, and Power Take Off generators, are also available.
New Pancake Generators (Shorter in length)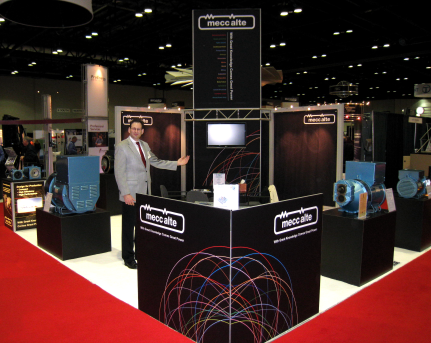 Exciting new products from Mecc Alte:
Medium Voltage Generators for Standby & Prime Power
400 Hz Generators for Ground Power Units
1200 RPM Prime Power Generators
Rugged - built like a tank Auxiliary Power Unit Generators for trucks
With one of the most modern plants designed to manufacture alternators, Mecc Alte is a true CAD/CAM operation, allowing the engineering division to control floor operations. This high degree of automation allows not only flexibility, but also an outstanding quality level. The specially built CNC Machines with their unique computerized manufacturing process ensures repeat accuracy for uniform air - gaps thereby resulting in low vibrations and noise. They also use rapid advanced automated prototyping and testing machinery.
Mecc Alte generators are found world wide and incorporated in packages from some of the largest Genset packagers. Generator's are designed and construction to facilitate virtually all types of couplings, and ensure a continuous power supply with the minimum of maintenance. Dedicated to quality, 100% of their production is tested. You should choose to use Mecc Alte generators because of their high quality, overall design superiority, low rate of failure, and around the world parts and service.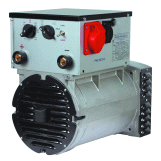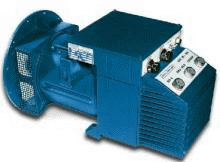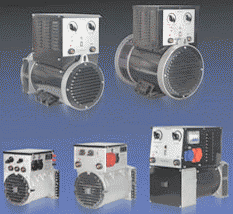 Long-Life
Welding Generators
2 & 4 Pole Models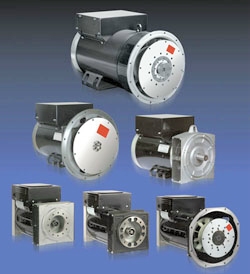 ECO and ECP alternators can function in parallel among themselves, not withstanding the type of alternator, and/or in parallel with the mains provided that they are equipped with the load sharing devices. The permissible overloads are of 300% short circuit for 20 seconds, of 50% for 2 minutes and of 10% for 1 hour every 6 hours of operation. All ECO and ECP alternators have a fixed inductor, with skewed slots, and a rotating inductor fitted with a damper cage (except for the EC314 and EC028/4 alternators).
The windings have a 2/3 pitch in order to reduce the harmonic content of voltage. The entire series is manufactured according to and complies with the most common specifications. Standard Insulation for most units is class H. Impregnation is made with tropicalized epoxy resins by dip method, and the high voltage parts by vacuum impregnation to insure superior insulation. In the high power models, the stator windings undergo a further insulation. Special treatments for particular environmental conditions are available on request.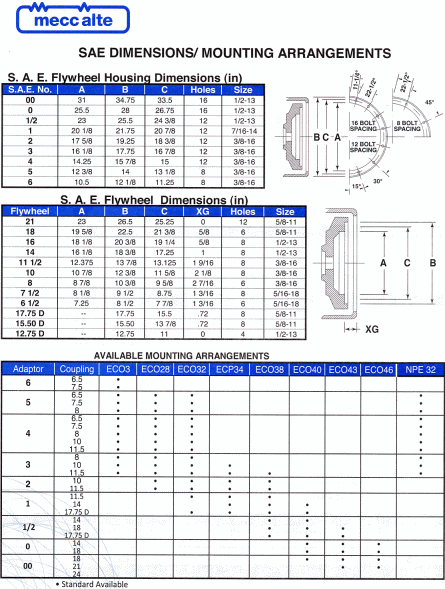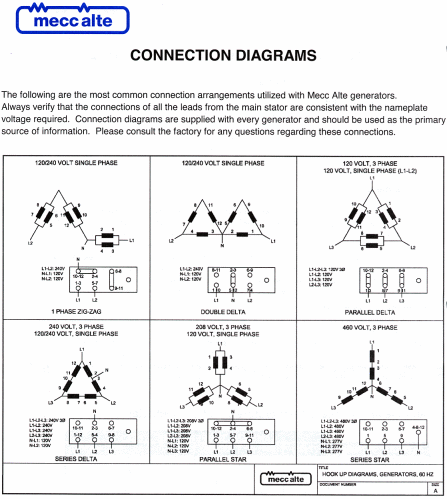 Railroad Duty Generators
Designed and manufactured to meet harsh environmental demands for line haul locomotives and switching applications. Mecc Alte's rugged insulation system, with their unique, patented overcoat of Butyl Rubber, provides unparalleled mechanical strength and superior protection against airborne rail dust, oil and grease.
The standard models of TE (Totally Enclosed), pre-engineered generators are becoming the standard for other harsh environmental applications, which include gantry cranes, wind turbines and off-shore oil platforms
Mecc Alte RTG Crane & Marine Generators
Mecc Alte can deliver its Rubber Tyred Gantry crane generators with oversized rectifying diodes and slot insulation systems with the winds protected by a butadiene rubber compound to counter early aging common in RTG Crane applications. These models are specifically designed to reduce high frequency dielectric stress and meet the demanding environment of heat, humidity, salt laden air, load-induced shocks that are prevalent in this application.
IP45 air inlet filters can be added if required. The filters can be fitted with a choke air filter detector.
IP55 is available for the terminal connection box.
The DSR (Digital Automatic Regulator) maximizes performance for variable speed applications. Special rotors with additional retaining cages solve breaking capability and compatibility issues.
We can also assist in the sizing and properly modify the generator in order to limit spike magnitude: the air gap and the slot skew can be designed to the customerís specific requirements.
Copyright © 2022 Amstech Power Products, L.L.C. All rights reserved