Pryco, Inc. manufactures Day tanks, Sub-Base tanks, Pump Sets, and other high-tech equipment for sophisticated fuel systems for emergency, stand-by, co-generation power systems, and boiler fuel systems.
Since 1980, they have been a worldwide supplier of fuel systems for all types of power systems, boiler plants and automatic lubrication systems.
What makes their Day Tanks exceptional is the use of hard wired simple plug in relays as the logic in the controls so your service people can just replace a readily available two or three pole relay to get your system up and running without having to wait for a custom replacement PC Board as is standard in the industry. More exotic PLC controls are available in the FCM and Evolution PLC systems.
Pryco Day Tanks come in three general design types: Standard, Manual, and Trim. The Standard and Manual tanks have the same physical dimensions. The Manual tanks however do not have a mounted pump, motor, float switch, and related controls. The Standard and the Trim tanks have the same standard equipment (see Standard Features); however, the Trim design has a smaller footprint and is taller. Controls are available with microprocessor or old school relay logic designs.
Versions are available in seismic configurations and to meet any state or local code.
New York City 25PSI Day Tanks.
Each tank (and double wall containment area, if applicable) has a 2" Atmospheric Vent.
If the tank is UL 142 Listed, an Emergency Vent is added. The size of the UL Emergency Vent depends upon the wetted surface area of the tank and is shown to the right. If the tank is UL Listed and double walled, the same size Emergency Vent is also added to the double wall containment area.
Day Tank Standard Features include:
Removable 6½" Square Inspection Plate with Gasket

Fuel Level Gauge

Heavy Duty Float Switch

"Press-to-Test" Switch

"Pump Running" Indicator Light

Four - 1" NPT Threaded Pipe Connections

One - 2" NPT Threaded Pipe Connection for Tank Vent

Tank Drain (Sized To Tank Capacity)

1/3 HP thermally protected, 120 VAC, single phase, 60hz, motor

2 GPM bronze gear pump w/stainless steel shafts

Lift Lugs (on tanks 50 gallons and over)

Removable top cover

Epoxy coating inside

Tanks are fabricated of heavy gauge steel by certified welders.

Each tank complies with NFPA 30 and is tested to 5 PSI

Pryco Medium Gray exterior paint or Caterpillar Yellow, Kohler Beige, Cummins Green, Generac Tan, MTU Gray and Fire Pump Red colors or they can color match at little or no additional charge.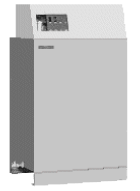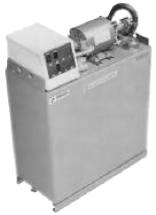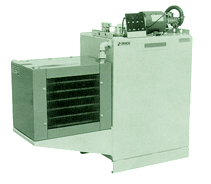 Sub-Base Tanks:
These are designed specifically for generator set mounting. The physical size of each depends upon the foot print of the generator set and required capacity. Sub-base Tanks are available in a Standard or a UL Listed design. Each has the following characteristics:
Heavy Gauge Steel - 7-gauge for the top and side channels; 12-gauge for bottom, ends, and internal baffles.

Internal Structural Baffles - located every mounting point and a hot/cold fuel separation baffle.

Drain - 3/8" in tanks up to 200 gallons and 1" in 200+ gallon tanks.

Connections - (1 ea.) 1½" for fuel level gauge; (2 ea.) 2" NPT for lockable fill cap and for vent; and (2 ea.) ½" for engine suction and for engine return.

Welded by Certified Welders and Tested to 5PSI.

Finish - Primer and choice of industrial color enamel.

Standard or UL Listed Sub-base may be fitted with Double-Wall ("Secondary Containment") construction. Custom designed tanks

can accommodate large capacity Double Wall and Rupture Basin requirements.

UL Listed Sub-base Tanks have additional sized vents for the tank and the double wall area, if

present. UL Listed Sub-Base Tanks are restricted to: Width cannot exceed 82" - Height cannot exceed 30" and Capacity - 2000 gallons or less.
The heavy construction of Pryco built Sub-Base Tanks allows us to offer every tank with lifting eyes or rings capable of lifting the entire assembled generator set. Whether you need a standard tank for an indoor application, outdoor destination, factory housed unit, or a custom designed tank, we can meet your fuel tank needs.
Generator Base Tank, (Single Wall)

Open Top Dike Generator Base Tank, (Double Wall)

Closed Top Dike Generator Base Tank, (Double Wall)

Secondary Containment Generator Base Tank, (Double Wall)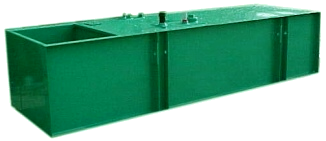 Custom Sub-Base Trailers:
The tank, a sub-base or belly tank (sold separately and not UL Listed), is integrated into the design of the trailer - all of which centers around the make and model of the generator set and required total Gross Vehicle Weight (GVW). Each trailer is designed and manufactured within the strict guidelines of your specification in addition to requested requirements of the Department of Transportation (DOT), and or the National Association of Trailer Manufacturers (NATM).
The trailer frame and tongue are formed with extra heavy 7-gauge steel. The fenders and step pads
are made of heavy gauge formed steel. The step pads also include non-skid surfaces.
These impressive trailer mounted enclosure system are designed for your specific job and can offer an integral fuel tank and generator mounting points to ensure the proper weight distribution in your application. This will make your trailer pull smoothly and safely. A full compliment of options are available and they can also provide you with everything you may need in a trailer-mounted unit.

Standard equipment includes:
US DOT required lighting package:
Protected Brake Lights
Park Lights
Turn Lights
Side Marker Lights
License Plate Bracket
3-foot Heavy Duty Safety Chains
Sand Shoe Tongue Jack
Ball Coupler
Primer & Light Gray Enamel Finish (Optional accessory: color of choice)
Battery Boxes, Battery Racks, and Battery Frames:
Both basic and seismic designed to your specification and battery types. Also Step or Tiered Battery Racks. Available for Lead Acid group 4D or 8D batteries, in addition to Nickel Cadmium (NICD), Nickel Iron (NIFE) Batteries and others. Boxes are hinged, lockable, with handles, designed for outdoor use, and available with a heater and thermostat. A battery disconnect switch is an available option mounted on the box. Battery Frames are formed 7 gauge. Battery Boxes are typically Glossy Black or optional Caterpillar Yellow, Kohler Beige, Cummins Green, Generac Tan, MTU Gray and Fire Pump Red colors or they can color match at little or no additional charge.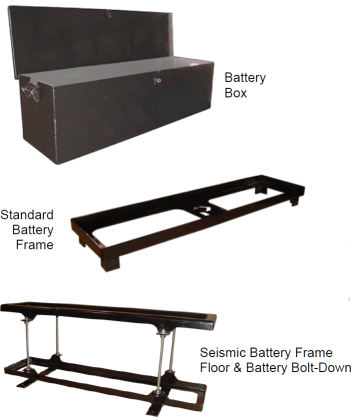 A full range of accessories is available:
Electrical: Motors, Motor Starters, Fuel Alarms, Horns, Switches, and Lights. Circuit Breakers, Float Level Switches, Leak Detectors, Heaters & Thermostats, Remote Pumping Units, Remote Reading Level Gauge, Remote Fill Panels, Reverse Flow Controls.
Mechanical: Pumps, Fuel Oil Coolers, Mechanical Visual Level Gauges, Manual Fuel Fill Locking Caps, Wall Mounting Brackets, Pipe Stands, Sight Glass, Filter Minder, Priming Tee, Gauges, Fuel Line Strainers & Filters, Fuel Filter/Water Separators, Vent Caps & Kits, Pressure Release Valves, Pipe Connection Ports, Weather Proof Day Tank, Rupture Basin, & Sub-Base Tank Covers, Pump Set Enclosures, Drain Petcock Valves, Drains, Check Valves, Solenoid Valves, Manual & Motorized Ball Valve, Flow Switches, Temperature Switch, Rupture Basins, Auxiliary Rotary or Piston Hand Pumps.