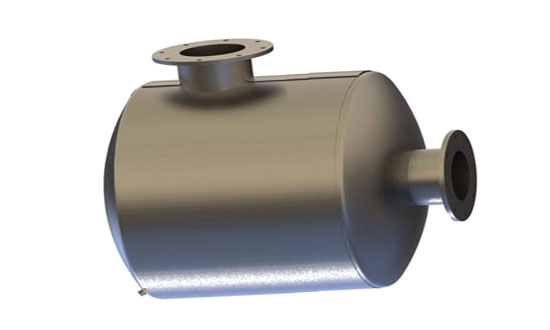 Compact vs Spiral Silencer
| | | |
| --- | --- | --- |
| Design Type: | Compact Silencer | Spiral Silencer |
| Age of Design: | Modern | Antiquated |
| Technology: | Reactive & Absorptive | Minimal Reactive |
| Frequencies: | Broad Spectrum | Limited |
| Maximum Grade Attenuation: | Super Critical & Extreme Grade | Critical Grade |
| Advantages: | Space & Weight Saving | Space & Weight Saving |
| Internal Insulation in Shell: | Yes (Can go to 2") | No |
| Exterior Thermal Wraps: | Available option | Available option |
| Customized Inlet Location: | Yes | No |
| Reduced Shell Temperature: | Yes | No |
| Customized Outlet Location: | Yes | No |
| Customized Shape and Size | Yes | No |
| Standard Connections: | Tube, Slip-Fit, NPT, Flanged | Tube, Slip-Fit, NPT, Flanged |
| Mounting Brackets: | Available option | Available option |
| Weight: | Similar or smaller | Similar |
| Dimensions: | Similar or smaller | Similar |
| Available in Carbon Steel: | Yes | Yes |
| Available in Stainless Steel: | Yes | Yes |
| Available in Aluminized Steel | Yes | Yes |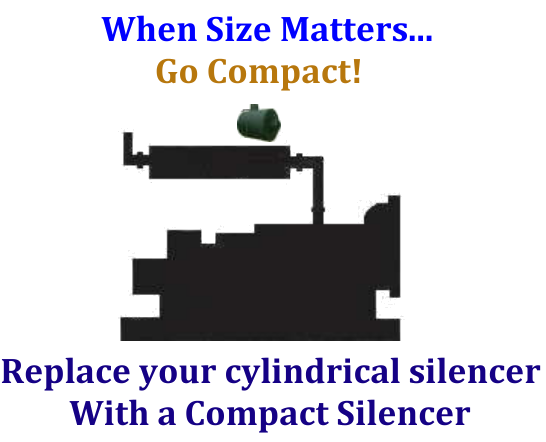 The spiral silencer killer!
| | | |
| --- | --- | --- |
| COMPACT SIZE | CUSTOM MODIFICATIONS | EXCELLENT SOUND ATTENUATION |
| REDUCED WEIGHT | LONG LIFE | INTERNAL INSULATION AVAILABLE |
| LOW BACK PRESSURE | AVAILABLE IN 304 or 316 SS | EXTERNAL THERMAL BLANKETS AVAILABLE |
Externally similar in diameter to conventional silencers, yet only 1/3 as long. The extremely small package size incorporates unique inner workings which are designed and crafted to minimize sound while gently and effectively directing the exhaust flow. These silencers incorporate two methods to reduce noise: advanced Reactive and Absorptive technology.
You achieve a smaller physical configuration and the drastically reduced weight and space also saves on shipping costs.
AVAILABLE OPTIONS:
· Inlets and Outlets: Male or Female NPT, Straight Tube or Pipe, Tube Elbows, Caterpillar, Cummins, John Deere Flared Flange, and ANSI or ASA 125/150# 0.50" thick Flanges are available installed on the inlet, outlet or both and configuration modifications are available on request.
· 100% 304, 316, or 321 Stainless Steel for a more corrosion and scratch resistant finish.
· Reverse flow configurations
· External Thermal Blankets in Spring or Velcro wraps of 1" to 4" in thickness.
· Powder Coating
· Inspection Ports, Saddles, Mounting Brackets welded on, Drain Valves, and Test Ports.
TECHNICAL ADVANTAGES:
· Smaller and lighter package, saving in physical space and shipping.
· Lower body surface temperature provides a safer work environment, and less heat emanating from the silencer working its way through the radiator and air intake.
· Less noise and lower complaints.
· Low backpressure resulting in lower wear on engine components and greater fuel efficiency.
· Variety of Inlet and Outlet locations including on the same side.
· Options: Inspection Ports, Saddles, Mounting Brackets, Drain Valves, Test Ports.

PRODUCTS DESIGNED TO EXCEED MOST CUSTOMERS NEEDS…
Flexible designs and sizing to meet all customer requirements.
In-house engineers for technical assistance.
Silencers with special connections.
Quality material and workmanship.
Quality Control Program.
Over 20 Years of proven performance.
Competitively priced.
Complete line of exhaust accessories