Qualmega, Inc. is a leading nickel-cadmium and nickel-iron battery specialist. They carry more than 150 different types of Ni-Cd and Ni-Fe batteries for a wide variety of stationary and mobile applications. They maintain a stock of batteries and can also supply sophisticated chargers, racks, cabinets, filling and maintenance equipment.
These batteries are manufactured in a modern factory to international standards. They offer the customer the optimum choice of Pocket Plate NICD, or Sintered Plate NICD in addition to Lithium-Ion and long life Nickel Iron batteries.
Their batteries are available for generator sets, switchgear, telecom, uninterruptible power systems, emergency lighting, rail transit, signaling, oil & gas-petrochemical, utility, renewable energy-solar, and automatic guided vehicles.
The SCBC factory is ISO 9001 certified. All the Ni-Cd batteries meet or exceed IEC 60623 standards.
Their nickel-cadmium rechargeable batteries are characterized by excellent electrical performance, good high-and-low temperature performance, high mechanical strength, stable discharge voltage, available to fast charge-discharge, simple maintenance, and an assortment of other remarkable advantages.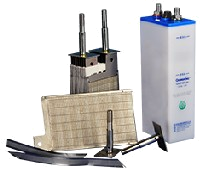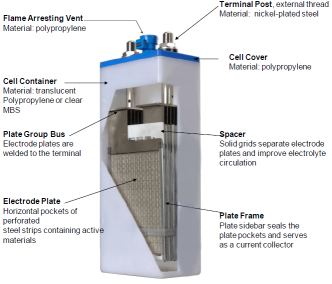 Nickel Cadmium Pocket Plate Battery
Nickel Cadmium (NICD) Pocket Plate Batteries are available in tough polypropylene containers of single cell types and block battery types. Cells of Stainless Steel containers or structural foam molded containers are also offered as options. Incorporating variations in electrode design to meet different current duration requirements.
The batteries are classified into three types KPH (High discharge rate cells), KPM (Medium discharge rate cells) and KPL (Low discharge rate cell) . The performance of the batteries has been certified by the many independent international agencies. Sizes: 9AH to 1200AH
The Pocket Plate Nickel Cadmium batteries are the most advanced and proven technology currently available on the market today. They have a wide range of cell types available in traditional flooded cells in addition to recombinant styles. Battery racks and a host of accessories are available.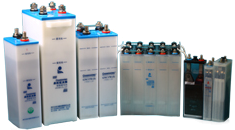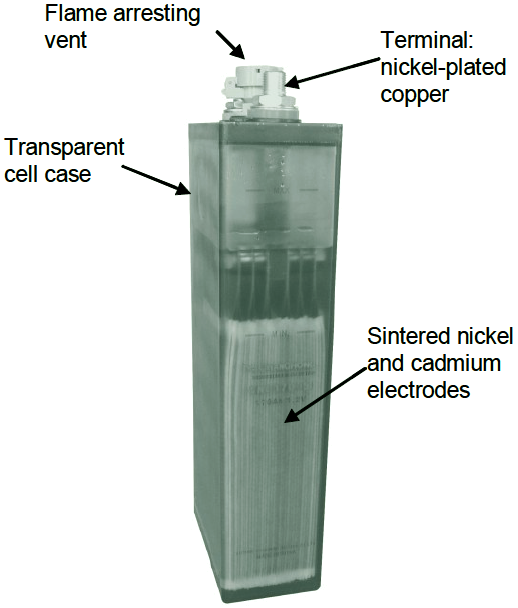 NI-CD Sintered Plate Battery
Nickel Cadmium KPX (Ultra High Rate) batteries are specially designed using sintered positive plates and pasted negative plates for rugged diesel, genset, rail, and mobile applications.
Fits in a very small space (saves 20% to 60% of space used over conventional lead acid batteries).
Lighter than conventional lead acid batteries (reduction in 20% to 50% of the weight of conventional lead acid batteries).
Performs even at extremely low temperatures (less than -20°C).
No topping-up with water required for long periods (more than 2 years).

Nickel Cadmium Battery - FEATURES & BENEFITS
(NICD's vs LEAD ACID FLOODED, GEL CELL, & VRLA BATTERIES)
Temperature: NICD's have the unique ability to withstand severe environmental conditions. Many of the installations are subject to varying temperatures of cold (outdoor enclosures, substations, roofs) or heat (electrical equipment rooms, boiler rooms, industrial plants, outdoor enclosures). Our continuous use temperature ranges of - 40°C to +45°C (-40°F to +113°F) is important because most people forget that Heat Kills Lead Batteries and that lead warranties become void or have a very drastically reduced life when over 77°F. An excellent realization comes when you and your customer think about how much heat builds up in an outdoor, enclosed Genset or Switchgear box which has the summer sun beating down on it.
Reliability: The main problem in all applications is the risk of fire and safety hazards if the circuit fails to trip, or if a Genset, Fire Pump, or Emergency Lighting fails to start during an outage. With Switchgear, if the breaker reset does not occur on a fault circuit, a building owner could also face numerous complaints, and in the case of a utility it could also effect their operating rating. NICD's offer superior reliability against catastrophic failure.
High Rate performance: Amp hours (AH) are meaningless when facing high peak load profiles. We offer unmatched size, weight and life benefits when dealing with multiple high current (peak) load profiles. Unlike Lead batteries, NICD's offer a high recharge efficiency and can be left off charge for years, and then fully recharged without any detrimental effect to their life or performance.
Cycle Life: NICD batteries typically can provide from significant Deep Discharge cycles to 80% of capacity.
Life: NICD batteries typically offer life expectancies of 15 to 25 years. They should not experience "Sudden Death" which is found in Lead Acid & Gel Cell Batteries.
Pricing: Includes flame arrestor vent caps, inter-cell connectors, and jumper cables for racks (if needed).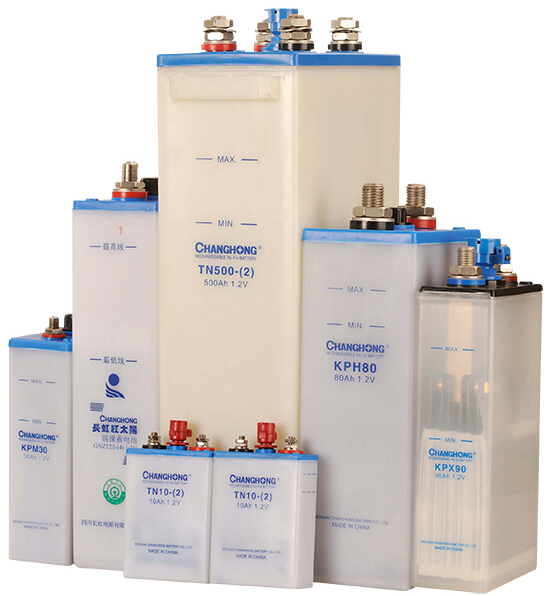 NICD Battery pricing is for one set per system, and includes inter-cell connectors, flame arrestor vent caps, and jumper cables for racks, as required. Typical battery sizing is based on the number of seconds of engine cranking, engine cubic inch displacement, ambient temperature, engine oil temperature and weight (viscosity), and parasitic loads, from a fully charged battery. All Battery racks are of the modular stepped design, for total visibility and access.
Cables from the battery to the system are not provided, and must be sized to provide low resistance, (voltage loss), especially if the batteries are not in close proximity to the equipment it is powering. If powering, multiple pieces of equipment, connect each directly to the battery. Do not connect to just one piece of equipment and then use a small jumper cable between them.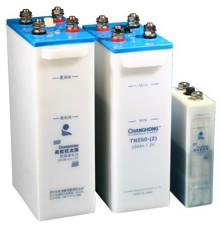 Nickel Iron Battery
Nickewl Iron (Ni-Fe) rechargeable battery not only has the most of characteristics of nickel cadmium pocket plate battery, but also owns the advantages of lower cost-in-use, minor self-discharge, long service life, low maintenance (more than 3 years), environmental-friendly, high mechanical strength, excellent resistance performance to electric abuse, good resistance to over-charge and over-discharge, therefore, Ni-Fe battery can replace Ni-Cad battery in many fields. After the Ni-Fe battery is charged according to standard charging system under the ambient temperature of 20˚C±5˚C, the battery can be normal used under the ambient temperature of -20˚C±60˚C (different discharge capacity under different temperature). This Nickel Iron battery is specially suitable for emergency lighting, solar photovoltaic applications and renewable energy storage applications under severe environment.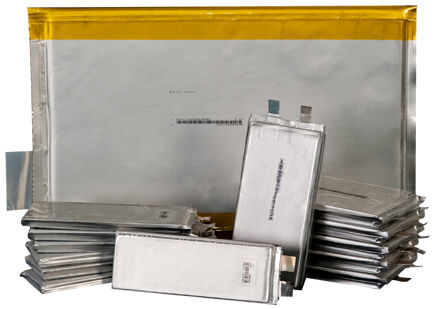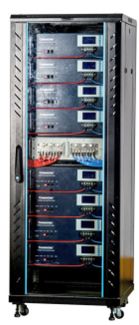 Lithium-Ion Battery
LiFePO4 Series & NCM Series
The Lithium-Ion cell manufactured by SCBC can be divided into two series, the one is IFP series with the anode material of lithium iron phosphate, as the other is ICP series with the anode material of lithium cobalt oxides. These lithium-ion cells have the following advantages: high operating voltage, high specific energy, small in size, light weight, long cycle life, low self-discharge, good discharge ability at high discharge rate, well adaptability at high-low temperature, high safety, no memory effect, environment friendly, etc. The products are widely used in the fields of UPS, mobile communication base station, energy storage, AGV, electrical bicycle, high-power start power supply, aircraft & aerospace, etc.

• Long cycle life: (LiFePO4: >5000times; NCM: >3000times.)
• High safety factor
• High adaptability to environment: (The high temperature type lithium-ion cell can operate for long time at 60˚C.)
Electrolyte, Cell Filling & Commissioning Supplies, Hydrometers, Emergency Eye Wash Stations.
Jumper Cables and Cabling, Cable Hardware, Inter-cell Connectors, Connector Covers.
Recombinant Caps, Racks, Stands, Boxes, and Cabinets in a variety of NEMA configurations.
We offer a wide variety of easy to assemble steel battery racks in single or multi-step configurations to accommodate your site situation. Seismic designs are also available.

BATTERY CHARGERS
A full range of single phase and three phase battery chargers are available with and without NFPA alarms.
We also have Best Battery Selection Systems and battery disconnect switches.
Battery chargers are available with digital or analog control circuits and are available in outputs ranges from 12VDC to 260VDC and from 6 Amps to 800 Amps output. Custom ranges are available.